Our new electric bike repair stand KET-LIFT4BIKE is a genuine product of the Black Forest: Powerful, strong in character and down-to-earth – handcrafted from high-quality components.
Cycling is becoming more and more popular. No wonder the demand for maintenance and repair work is huge. This leads to an increasing demand for professional solutions for bicycle repair stands not only for bicycle repair shots, service facilities and rental stations but also for hobby mechanics. But the selection is large. That's why it is worth taking a closer took in terms of build quality, safety, handling and flexibility.
We have thrown our decades of experience in drive technology and our know-how in terms of e-bikes and MTBs into one pot. The result is KET-LIFT4BIKE – a trendsetting portable electric bike repair stand for the professional and hobby mechanics.
KET-LIFT4BIKE – A Black Forest Original
Our KET-LIFT4BIKE is in fact a Black Forest original. It was 100% developed, designed and build in the Black Forest – by real Black Forest denizens, of course. Our developers are themselves ambitious bikers and therefore know what is important in a good assembly stand.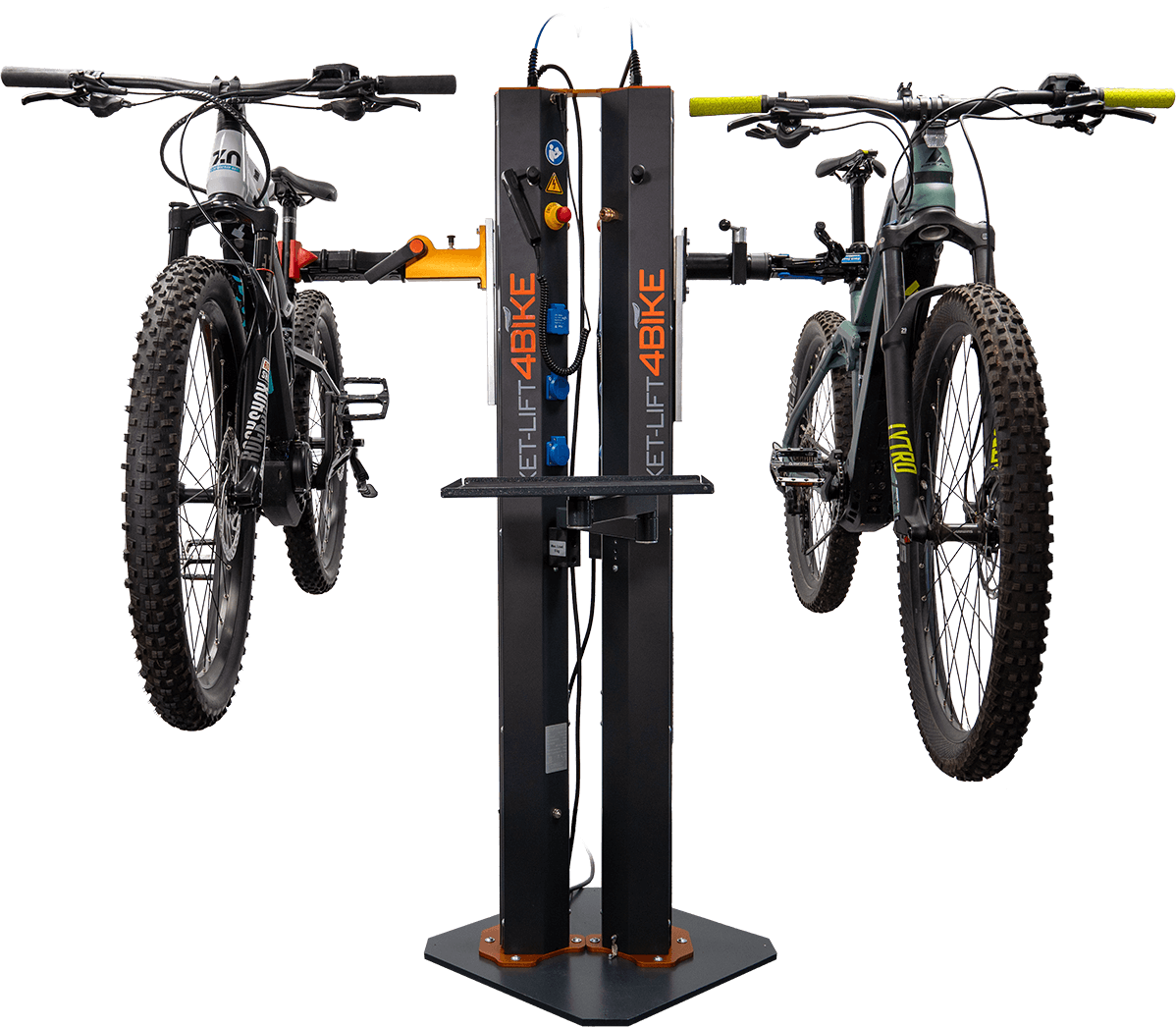 KET-LIFT4BIKE – The multifunctional talent
KET-LIFT4BIKE consists of high-quality components and combines all the important features that make up professional bicycle repair stands. With a height of two meters and an adjustment speed of 80 mm per second, it allows efficient and ergonomic "screwing." Thanks to the robust design, a solid base plate as pedestal and a maximum load capacity of up to 50 kg, it is particularly well suited as a MTB and ebike repair stand. But racing bikes and other bikes also look really good on it.
Our portable bike repair stand is as versatile as the Black Forest
Versatile for e-bike, mountain bike, racing bike or other bicycles up to 50 kg
Versatile for use in small hobby workshops as well as in large bicycle stores
Versatile adjustment – electrically and steplessly by hand switch or foot switch
Versatile set up thanks to base plate with transport rollers
You want to know whether you can also use the electric bike stand outdoors? You are wondering what options are available to secure your bike in the stand? We have compiled a FAQ list in which we answer exactly these questions.

I use the electric KET-LIFT4BIKE as a mountain bike repair stand and I am finally having fun with it in the workshop. Just press a button and my bike is exactly where I want it to be to clean the chain or check the brake pads. And it looks chic too ...
Are you ready for the KET-LIFT4BIKE – the original from the Black Forest? Depending on the type of mounting clamp and optional base plate as pedestal, the electric bike repair stand is available from € 2,530.00 (plus VAT) in our online shop.
Complete view of e-bike repair stand
E-bike on the lowest position
E-bike on the lowest position
E-bike on the e-bike repair stand on the lowest position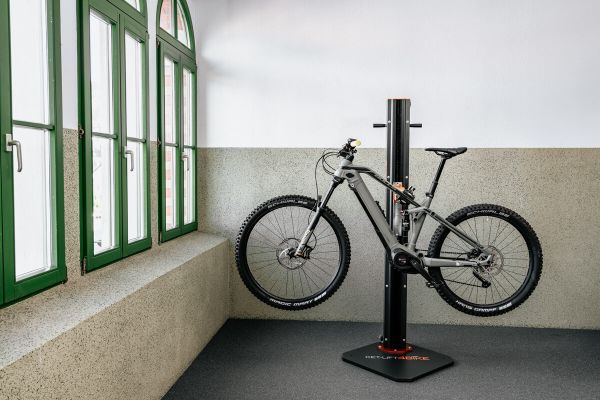 E-bike on the middle position
E-bike on the middle position
E-bike on the e-bike repair stand, electrically adjusted, on the middle position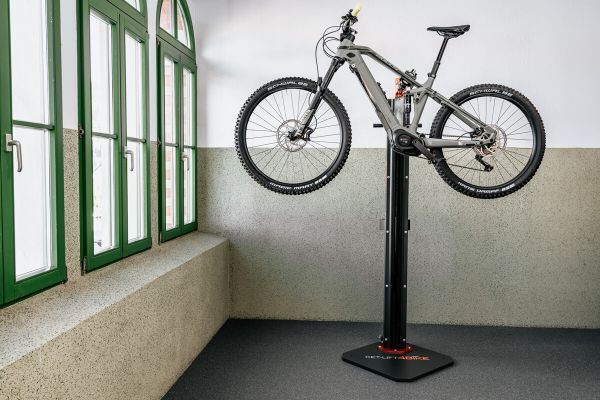 E-bike on the top position
E-bike on the top position
E-bike on the e-bike repair stand, electrically adjusted, on the top position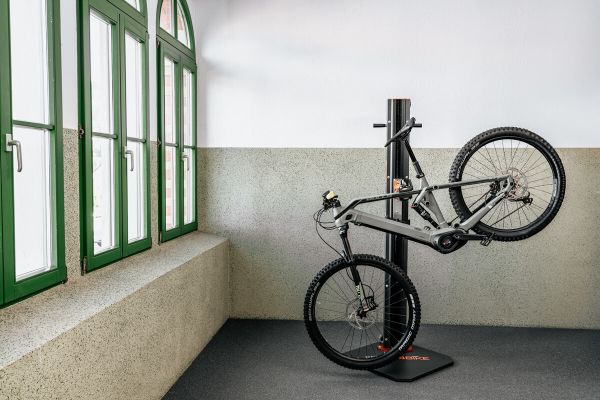 E-bike in tilted position
E-bike in tilted position
E-bike on the e-bike repair stand, electrically adjusted, in tilted position
E-bike repair stand, close-up view, with tool tray